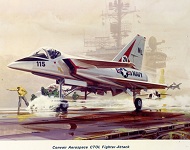 The Convair 201
Learn about how we developed a "What If" aircraft.
VISITORS:
(04/11/11) RAZBAM A-7 Corsair II Vols 1 & 2 Upgrades are available
The upgrades to Volumes 1 & 2 of the RAZBAM A-7
Corsair II are available.
With these upgrades all our volumes willhave the same characteristics.

See more...

A-7 Corsair II Bomb Test Video
Fresh from our labs. A video from our recent bomb test

A-7 Corsair II Promo Video
The fantastic promo video created by MirageIII2009.

F-102 Promo Video
Watch our Delta Dagger take off with full afterburners.